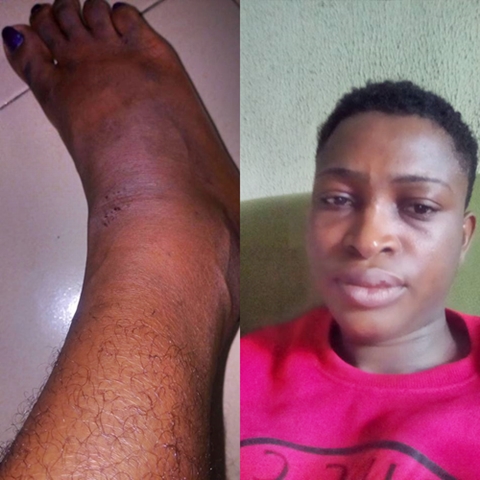 A Facebook user identified as Chinkata Uche Tina, has taken to the social networking platform and recounted her brutal encounter in the hands of some Police officers in Abia state.
Here's how she narrated the story on social media;
"This was how i escaped death last night. I left ph to Enugu as early as possible yesterday morning for something very important. And i left Enugu to ph by 4pm hoping to be in aba by pass 6pm since there's curfew in the state but unfortunately we got stocked at ama awusa just between Enugu and Abia before Okigwe. We were there till 10pm, Army came to help clear the road.
"On our way to aba, we passed so many check points without no stress. Getting close to Ariaria we were been arrested and beaten by police. They gave me the hottest slap and beaten I've never received in my life. I can't even hear well nor feed with my mouth. Their anger is that we're igbo's. They said our brothers are the reason why their station was set on fire, nd some of them were killed.
"They kept us with them till 4am this morning, I arrived ph around pass 6. I know some of you'll blame me for travelling even when i knew the situation on ground, but if you actually know the reason why i travelled you won't blame me. Pls if you're planning to travel to Aba, Umuahia or Enugu i advice you hold on for now what i experienced last night isn't funny at all... Abians need your prayers pls."
Narrating further, she said; "They wanted to use their useless boot and hand to break the leg am using to do shakara in Ph and the mouth i use in attacking some people on facebook. God punish devil!"